The Artwork
Mike Fasano - Mike is a graduate of the famous Kubert School in Dover, NJ, as are all but two of the artists who contributed to make this project come alive visually. He currently lives in Long Island, New York, and can be contacted through his website. He worked on the first chapter and utilized a colorful comic book style that the author adored. You can find more of his artwork on his deviantart page and also on his personal website.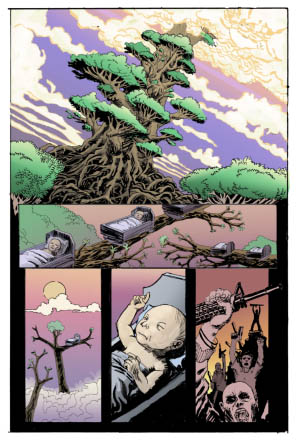 Oliver Hine - Oliver is another graduate from the illustrious Kubert School in Dover, NJ. Oliver worked on all of the Jeff Haunt chapters and focused on a more narrative approach. His distinct style attracted the author immediately. Along with the Haunt chapters, Oliver also created the logo for the site. He currently lives in Canada, and his artwork is one-of-a-kind. Check out some of his other work on his Tumblr page.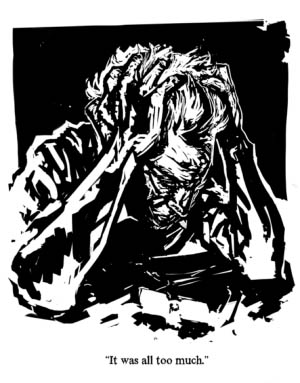 Michael Manomivibul - The author met Michael at an independent comic event called MoCCA (The Museum of Comic and Cartoon Art) in New York City. While passing by his booth, the author was awestruck by Michael's brilliant artwork and just had to have him draw a little something for the book and this picture is that something. The umbilical cord sea monster represents a turning point in the story for Marigold Haunt, and the author couldn't think of any better artist to handle it visually than Michael Manomivibul. This stunning piece is just the tip of the iceberg for the artist. If you want to see more of his work, check out his website.

In the artist's own words: Michael is a freelance illustrator whose work thrives on mystery and atmosphere. He's been known to work on books about spooky beings and grand adventures.

Clients include IDW and The Folio Society. His work has been shown in Spectrum: The Best In Contemporary Fantastic Art.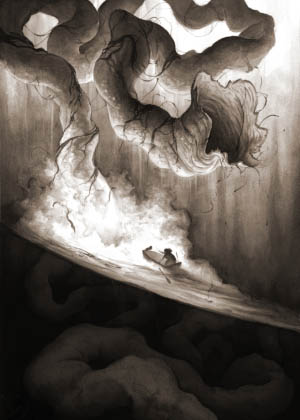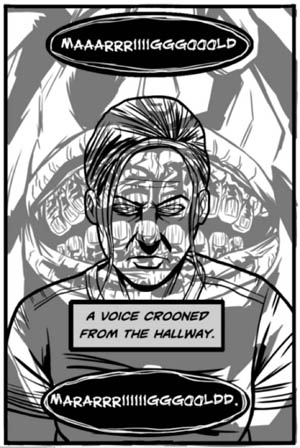 John Dylewski - John is another amazing find from the Kubert School in Dover, NJ. He's been tasked with working on all of the Marigold chapters and is utilizing more of a comic book approach. The author really appreciates John's flexibility and dedication to the project. His work is detailed and exquisite. You can find more of his work on his website.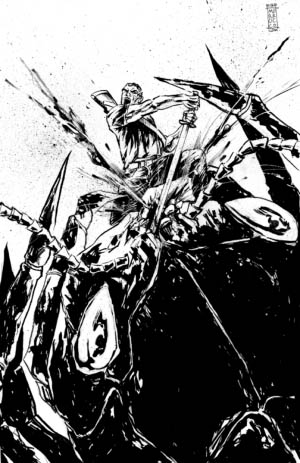 Mike Morrocco - When seeking out artists for this story, the author met one Mike Morrocco, who's another graduate from the Kubert School in Dover, NJ. The author and Mike share much in common; namely, their mutual love for the Wu-Tang Clan. The picture provided is of a scene that takes place much later in the story when Instinct (Yes, Instinct is a character in this book), battles an enormous centipede in a desert. To see more of Mike's work, visit his deviantart page and also his website.

Here is his personal bio of himself:
Exiting the womb during the height of Reganomics, Mike spent his youth in the urban megalopolis known as Baltimore, where he became educated in hard knocks, tender lovin' and a degree in Graphic Design from Towson University in 2006. After fending off the hordes in the savage fields of corporate design, Mike decided to lay down his arms and travel to new exotic locals. He ended up in the strange foreign land known as New Jersey where he found his way to the Kubert School where he was trained in the arts of the pencil and the ink until 2012. Now he wanders the barren wasteland outside the walled utopia known as New York looking for straggling caravans needing web and print design, illustration, and sequential art to keep his nights warm and his belly quiet.
Well, alright then!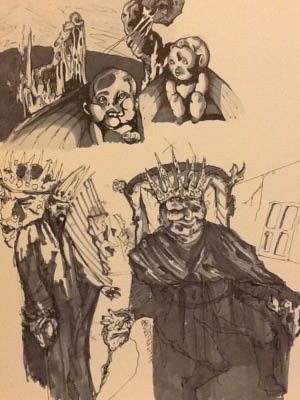 John Tieman - John and the author go all the way back to the high school days. Back then, the author had been working on a story called Machete Moon (It's awful! It's about werewolves. Let's forget about it already). John always used to draw these really abstract, scary images in his notebook and the author was thoroughly impressed with them and said he would like to work with him someday, and this book provided that someday. As you can see, there's a king in these pieces as well as a baby. The events in these pictures take place much later in the book. The author approves.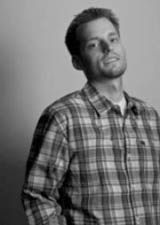 Kyle Lewthwaite - Kyle is another high school friend of the author's and is the official mastermind behind this website's design and feel. Working on front-end web design for a living, this website's entire layout is all the work of Kyle and a friend of his named Ian. Along with web design, Kyle is also passionate about photography. Check out some of his work on his website.